WINE OF THE WEEK #098
What's up Tumblrz? Ready for another wine review?
Today we are going to take a look at a Slovenian Pinot Noir or Modri Pinot (2008) from the Saksida winery 
The grapes from this wine are planted on a southwest facing slope in the Vipava valley.
The valley is known for it's great microclimate, influenced by the Mediterranean sea in the south and the Alps in the north. It gives the region the best grape growing conditions of Slovenia. And because Pinot Noir is one of the toughest grapes to grow, it had to be planted on the best slopes out there : the southwest one. 
The Saksida winery itself is a family owned winery with the "typical" Slovenian history:
Started a century ago to make bulk table wines, then during the communist regime in the sixties and seventies they had to sell their grapes to large coops who also made mediocre wine. Now, since 1985, the latest generation used the funds of the European Union wisely to invest in modern techniques, to lower the yields and boost the quality, and the result is a winery with interesting wines and grape varieties, ready to become a well known name amongst wine lovers.
So let's see how they handled the Pinot :
Appearance
How does Pinot Noir have to look? Right, exactly like this.
Imagine you have a juicy red wine, and you let a bag of English Breakfast tea sit in it for an hour. Result : Pinot Noir.
Nose
Oh, it gets even better.
The wine is deep, I could lose myself in the nose.
It smells like cherries and dark berries that are three days old, wrapped in wet forest leaves with chocolate shavings on top of them.
From another angle it smells like sweet cough sirup and smokey tobacco.
And sometimes the nose is vibrant and fruity.
To sum it up and be boring : very well integrated fruity and earthy components. 
Mouth
The initial attack feels a bit watery.
Herbs and baby tannins do start gripping a little bit, and the acidity is very well balanced, but overall not so much is happening.
But, I don't really mind…because wine is a drink, and this juicy tasty feeling makes me want to drink it! 
Finish
As the mouthfeel predicts, there is no real "level-up".
But, the overall herbal juiciness of the wine is worth sucking on your tongue looking for a nice aftertaste.
I don't know why, but I really click with this wine. It's just so interesting yet easy going, it screams to be drunk and will do just perfect on a cosy evening. It will not blow your sucks off but it will read you the perfect light bedtime story.
Quality wise, I have to go for silver, but I'm going to store this on my "to-remember" list.
Wine OF THE WEEK #097
Hey Tumblrz,
Let's kick off Slovenia!
I'll be starting with what I believe the least funky, most fruity wine of them all. For what I've heard about it, it should fit the category of a "lifestyle" wine. In other words, sip along with your friends without getting too nerdy about a bit of grape juice.
The wine is called Strune, from the Scurek winery in Brda, Slovenia
They are a winery very close to the Italian border, even with vineyards in Italy itself, producing around 80000 bottles a year. Check out my wine map to zoom in on the region, it is absolutely stunning!
If you look at the label, you see a cricket or "Scurek", with a violin with five strings or "Strune". The number five is very representative here, because the winemaker works his five plots with his five sons and last but not least, their Strune series are blends of five different grape varieties!  
The grapes in their red blend are:
Cabernet Sauvignon (20%)
Cabernet Franc (10%)
Merlot (30%) … so far so good … 
Pinot Noir (25%) : huh, one of the most fragile grapes amongst the "big boys of Bordeaux"
Refosk (15%) : Never heard of it.
 A bit of googlin' learns me that I don't know anything about Italian wines, because Refosk is actually the same grape as Refosco in Italy. Often used in wines from Gavi, Friuli, Trentino and so on, and known for high tannins, acidity and lots of dark fruit flavors.
I'm just curious how my first Slovenian experience will be…
Let's dive in and taste!
Appearance
Althout the wine is very young, there is a beautiful lightness and even a pale brown shade visible. The wine looks very fresh, healthy and interesting. What a nice start! 
Nose
My first impression is : oh yes, I like this!
But the nose is a real challenge to start explaining. Overall, the wine smells delicate with notes of raspberries, dark berries, dried herbs, twigs and even something salty like an oyster clam. Because the wine is so fresh and vibrant, it almost smells crusty and not smooth like a full bodied wine.
Mouth
Hold on to your seat ladies & gentleman, because you will have to survive a guerrilla acidity attack. My left and right side of my cheeks and tongue are still shaking. Wow!
If you survive the attack (my sister wouldn't, haha) you'll find a wine that is well balanced, very juicy and easy going.
But, it kinda threw everything in there all at once.
It's all in the attack, not in the mouthfeel. 
Finish
But here is a surprise.
A fat layer comes creeping from underneath, making the dark fruit and herbal twigs float in some coconut and mocha.
This is truly something.
I think I am right when I say that this wine is more made as a concept : one owner, five sons, five plots and five grapes. They maybe should have done only 3 plots and 4 grapes, but hey … always believe in your concept.
I'm giving this wine the silver medal, because it will bring a lot of fun to your wine table, it is very well priced for so many interesting facts and flavors. But, the balance in the mouth is a mistake. You either can forgive and empty this nice bottle, or you can be grumpy and say it's a bad wine.
I 'm going for the first option.
cheers!
JDR
WINE OF THE WEEK #067
Hi everyone,
there is no better way to end this Pinot Noir theme with another Burgundy.
Classics are there to be respected, and thus I kept the next bottle until the end:
Michel Sarrazin - Cuvée Champs Lalot - AOC Givry - 2009
It took me a while to figure out where the AOC of Givry was located. A friend of mine pointed me towards a website called Burgundy Report where you can find loads of info about Burgundy and the layers, sublayers and subsublayers of AOC's, especially the pricy and expensive ones.
However, as I work with a small budget for my blog, I couldn't find info about Givry, because it is not from the most sought after regions in Burgundy, but from the "Côte Chalonnaise". A region that is not really known, but can surprise you with a better QPR. Something I am always looking for!
Here are some pictures that will help you :
first of all a general map of Burgundy
And this is a map from Côte Chalonnaise.
The winery of Michel Sarrazin and his 2 sons is located in between the villages of Givry and Jambles.
And finally, this is where the magic happens.
The vineyard & the cave.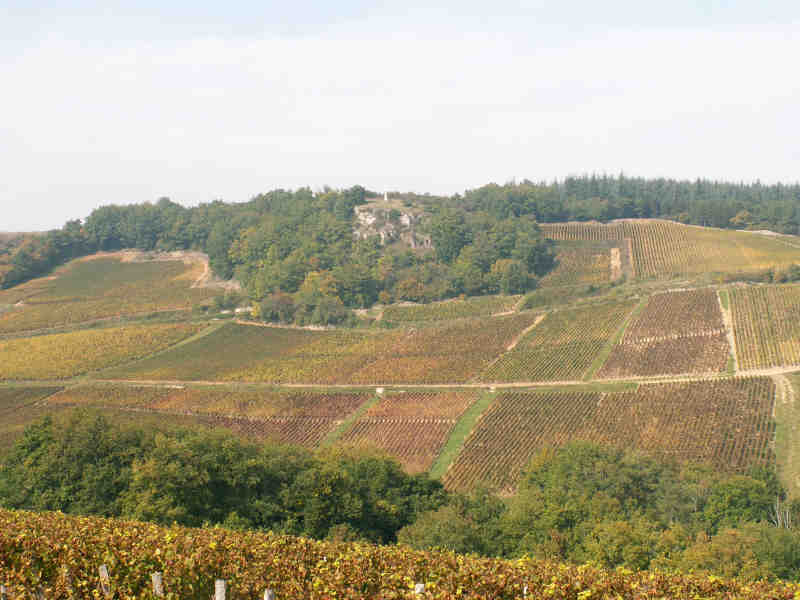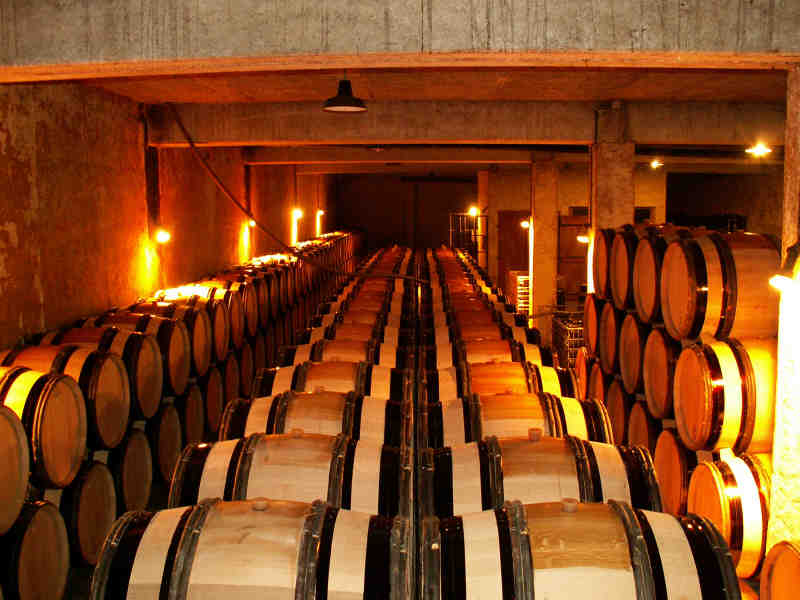 By looking at the incredible website of Michel Sarrazin, I discoverd they just make wine in the most traditional way possible. They don't use fancy words, they are not really trying to please the e-loving public, but I have a feeling they are know what they are doing once they start making wine.
Classics & tradition : let's go!
Appearance
The colour is one of the darkest I have seen so far in this Pinot Noir theme. It is quite difficult to see your fingers through the wine. Also, no colour on the legs after swirling around. I call this wine 'neutral' , not much to say here.
Let's sniff!
Nose
Sticking my nose in my big burgundy glass right now is quite something.
For me there are 2 layers.

The first thing that I notice is an explosion of fruit. It feels like a firecracker with raspberries and strawberries is opened in your nose. I don't know why I take this angle to describe the nose, but this is a fantastic vibrant - dusty - explosive - intense fruity nose.
Should this 'firecracker' be called minerality, I don't know. All I know is that I really!!! like this.
And now the second layer. It took me 2 days to find the right description, but now I know exactly what it is. In Belgium we call it "peperkoek" , and the rest of the world knows it as gingerbread.
It is a rye based (breakfast) cake with clove, cinnamon, ginger and nutmeg and a good amount of black pepper. It is often baked in the oven with large pieces of sugar on top, and this sweetness blends very nicely with the herbal cake. It might a very particular note, but I know this is exactly what I am tasting here.
My grandma used to love peperkoek, and I always got a piece when I was around!
Taste
I could write all day long about this wine I guess, but I am going to keep it short. You can turn this wine around in every direction, and balance is all you will get. This is just fantastic.
Tannins are very well integrated.
Fruit is juicy and very natural.
Acidity makes the wine very drinkable and enjoyable.
The firecracker really is a great backbone and I dare to call it minerality right now.
All I can think about is : give me some more!!


Finish
After a very vibrant and fresh mouthfeel, a soft fruity bird lands on your tongue. It is incredible how this wine keeps its balance on the finish, just no flaw at all.
And ofcourse,  the 'peperkoek' is back again. I have made the same comment before, and again, the finish reminds me of tea. Nice spices, a dry mouth and a soft coating that continues to give flavour for even minutes.
If you would ask me if there is a wine I want to drink forever, I would probably add this wine to my wishlist. It is that drinkable and delicious!
WINE OF THE WEEK #066

Finally Tumblrz, we are back with a new post.
The 4th pinot noir of the bunch, and I still have one to go!
Everything is loud and clear on the label : the grapes, the DOC. Everyone who is not familiar with Südtirol or Alto Adige : this is a region in Northern Italy, south of the Alps, and located more towards Venice than towards Turin.

The region is mostly known for their fantastic white wines. Freshness and minerality are the keywords, and grapes like Riesling, Gewürztraminer, Pinot Blanc and Sauvignon Blanc are grown here. I was absolutely stunned by the quality of these wines at "megavino", a wine fair in Brussels.
A couple months later, I attended a special "alto adige" tasting, where I also learned that the region produces great red wines as well. Pinot Noir or Blauburgunder for the lighter style of wines, and the local grape Lagrein is used when you want muscle in your glass. And it's not just muscle for muscle. The elegance and freshness was never lost along the road. It was a fantastic tasting and a region to really discover if you are getting tired of Germany, Austria or Alsace.
This wine is made by winemaker Hans Terzer from the St-Michael Eppan winery, and his moto is : "quality knows no compromise". And I have nothing to add to that!
Let's see if he lives up to his goals.
Appearance
Straight away, I notice shades of orange and brown in the wine, confirming that this wine starts having some age.
The base however is that typical Burgundy red that I am starting to get familiar with. A Burgundy red to me is an earthy red, transparent and delicate.
Nose
Ok, this is going to be a tough one for me.
I have almost never tasted older wines, and right away, a whole new spectrum of flavour opens up.
The vibrancy of the fruit is still there, but the flavours have developed towards more complex structures. The first thing I pick up is a dried leaf, more precise a tobacco leaf with some mud on it. Next is a little animal, making the nose a bit funky. And out of the blue I smell a brazil nut.
All these aspects are wrapped up in a sweeter aroma. Something I also found in the Pinot Noir reserve from Leth. It reminds me of a plum syrup, very natural and herbal, and it gives a great roundness to the nose.
Very interesting.
Taste
I take the wine in my mouth and nothing really happens, and this bothers me a bit. After chewing, and slurping and whatever you can do with wine in your mouth, I start to understand bits and pieces of the wine.
The mouthfeel is so different from a 'young' wine. The tannins are very soft, yet dry and quite powerful. The wine feels thinner, less fruity tones, more earthy stuff. More delicate as well, but I'm not so sure if I find this delicious. I sometimes get a sudden spicy feeling which I'm not liking so much.
Although I find this very interesting and I am trying to pinpoint the complex flavours I get, I miss the roundness and the balance that I got on the nose.
Finish
The finish is somewhere in between the nose and the taste. Especially those dried leaves are coming back again and again.
I remember when I was a kid at school, and during autumn we went to the forest to pick up dry leaves. This wine completely brings me back to those days. And now that I think about it, it almost tastes like tea!
I am a bit lost right now. I want to taste more and more and more, because every time I discover some small nuances that I didn't taste before. But on the other hand, it bothers me that I have to do the searching myself. The wine should tell me a story as well, and I should just be able to lay back and listen.
It could also be my palate that needs more training, or needs to get used to these kind of wines.
Confused, but intrigued, I will give this wine a silver medal!
WINE OF THE WEEK #065

Hi there,
After a more critical post about the problems Alsace wines are facing today, I'm back again with what I do best, and that is tasting wine.
Today we are having the 3th Pinot Noir, and yes my friends, you can even make sparkling wine from Pinot Noir!
This is a "sekt" from Leth, and it's their Methode Traditionelle Brut 2007, from the Wagram region in Austria.
In my post from Wine of the week #063 , I wrote a piece about another wine from the Leth winery. You can read in that post how the winery grows their Pinot Noir, and how that reflected in the superb red Pinot Noir Reserve which I gave a gold medal.
It might be interesting however to explain briefly what "methode traditionelle" means, before we stick our nose into the glass.
When you see "methode traditionelle" on the label of a sparkling wine, you know that this wine is made following the same winemaking process as a winemaker from the champagne region in France. Methode Traditionelle is also called "Methode Champenoise" outside the EU.
First, the winemaker makes a still wine from every vintage and every grape variety. Then they make a blend, and bottle the wine with a certain amount of yeast. This liquor defines the 'dosage', or the sugar level in the wine. Without the liquor you make a "brut nature", a little bit of sugar gives you a "brut", add more sugar to create a "sec", and you also have "demi-sec" and "moelleux". So now you know when you buy a 'BRUT' sparkling wine, you buw a wine with a tiny amount of sugar in it.
The bottle is then closed with a crown cap, and the second fermentation starts inside the bottle. CO2 is created due to the yeast, the wine starts sparkling and the pressure in the bottle rises.
Next, the wine is put away in the cellar for a defined period : going from 15 months to sometimes 10+ years. To prepare a bottle to be sold, it is turned upside down so all the yeast is pushed against the crown cap. A difficult process freezes the yeast, the crown cap is removed, the frozen yeast shoots out of the bottle, and then the final cork is applied to close the bottle again. This is only done right before selling the wine, and you should also drink your champagne within one or two year. Never put a champagne in your cellar to age for 5 or 10 years. It is not made for that.
At the same time that the frozen yeast shoots out of the bottle, and right before closing the bottle again with a cork, the winemaker ads a liquor. This liquor defines the 'dosage', or the sugar level of the wine. Without the liquor you make a "brut nature", a little bit of sugar gives you a "brut", add more sugar to create a "sec", and you also have "demi-sec" and "moelleux". So now you know when you buy a 'BRUT' sparkling wine, you buw a wine with a tiny amount of sugar in it.
The wine I am having here is a 2007. This means that the winemaker made a still wine from his 2007 vintage, bottled it with some yeast and a small 'dosage' and put it away in the cellar. Giving the fact that it is 2012 now, I guess the wine aged for 3-4 years in the cellar in contact with the yeast, before recieving the cork closure and a label.
And right now, those bubbles are jumping around in my glass. Great huh!
Appearance
What's fun about tasting a sparkling wine is that the appearance is very important. Not only the colour, but also the foam and the bubbles is a subject of nerdtalk.
On the colour, this wine has a nice straw yellow, with just a slight hue of orange in it. Because this wine is made 100% from Pinot Noir, this does not come as a surprise, but I like it nonetheless.
About the bubbles, if your sparkling wine looks like sparkling water : big bubbles and a moving surface, it's a bad sign. The bubbles on this wine are small and there are lot's of them, but what I like is that the top surface of the wine does not move. And another plus, there is a nice foam around the edges. 
I really have nothing bad to say here, it's all good and it makes me want to stick my nose in.
Nose
Yes, that's what I want to smell.
First of all, the fruit : some lemon, white peaches and a hint of banana peel. It's all white fruit, ripe and delicious.
Second of all, and this is my favourite part of sparkling wines, there is this layer of yeast, dough, brioche and almond paste. Like standing in the kitchen of a bakery, when they are making their finest pastry stuff.
The combination of fresh white fruit and a bakery is just heaven. That's why I like sparkling wines with Pinot Noir : they are baked!


Taste
Do not hesitate to softly slurp on a sparkling wine. If it's a good wine, you will create a nice foam inside your mouth that gives away a lot of flavour. I really prefer tasting it this way. 
And this wine just nails it, it's like eating a foam from a top chef. It's fresh, well balanced, great acidity and a roundness that is astonishing. It might be even a bit bold in style, but again, that's the baked Pinot Noir and I just love chewing on it.
Finish
It even gets better on the finish. It reminds me of "creme fraiche" with lemon zests, a good hint of white pepper on top and some vanilla sticks.
My descriptions might be a bit simple and short, but that is because this wine has a great focus. It does exactly what it has to do, and that is creating a path full of transitions and discoveries.
From a fresh first nose with lemons and peaches, over the baked and foamy mouthfeel, towards a big, round even creamy finish. Everything is balanced, and makes you want to start all over again.
I'm telling you, Pinot Noir from a good winemaker is just endless fun!