We're gonna party like it's 1999! #nightcap #australia #grenache #wine
WINE (&FOOD) OF THE WEEK #113
Hi Tumblrz,
as I've explained in my previous post about this month,
I had the heavy task to pair the wines with a 4-course meal that 2 of my friends and food bloggers prepared.
The first course was couscous with green herbs (basil, dille, …) with a fresh smoked salmon tartar. Next to the centerpiece were blobs of horseradish mayonaise and a splash of basil and garlic vinaigrette.
You can find the recipe of Hotcuisinedepierre on his blog.
So, what did this dish tell me.
On the one hand, a starter with fresh fish, especially a fat fish like salmon, asks for acidity and something sharp that cuts open your palate and slices the fresh ingredients. Something like a good Chablis or a Mosel riesling for example.
But on the other hand, the couscous and vinaigrette were more complex flavors, and so I also wanted to have a wine that wrapped itself around these flavors to avoid a conflict. A tiny tiny bit of sweetness can do miracles.
Combining freshness with roundness is almost impossible, but in my opinion, a rosé wine does the trick. Ask your local wine shop for a mineral and pale rosé and pair it with fresh salmon and lime, plus a green salad, and I assure you that you'll get a smile on your face!
The rosé that I picked was the cuvée Essentielle from Domaine des Masques: a great winery that I featured on one of my previous posts (#110) in the IGP of Bouches-du-Rhône.
The rosé tasted like a pink sauvignon blanc : grassy, sharp and zesty to energize your palate and elevate the dish. And the roundness and a light punch of tropical fruits worked perfectly with the flavors. Even I was surprised how well the wine and the food played together.
I have to say, If you ever want the perfect summer rosé to go with your picnics or salads in the park, this is THE! wine to get. Trust me ;) 
WINE OF THE WEEK #052
Hi girls & guys,
after a disappointing wine last week, it's time to change direction and head south for a bit of fun, for some 'plaisir'. And there is another reason to celebrate! That's right, it's blog number 52, I've done it! Can't believe I've been doing this every week since december last year.
I am putting all my hopes and celebrations into this bottle from the Languedoc-Roussillon region in the south of France:
PLAISIR DES LYS - AOC Minervois - 2009
Let's begin with the traditional start of the review, a winemap from the Languedoc-Roussillon region, the most southern wine region in France along the border with Spain. (orange line at the bottom of the map, under Banyuls)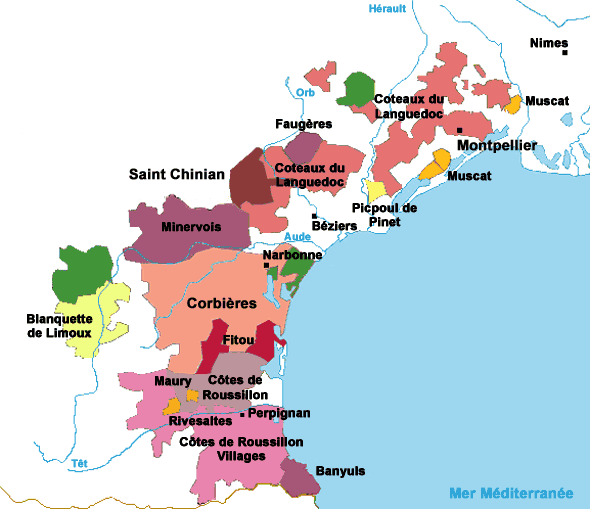 The region is known for its hotter climate and grapes like Grenache, Carignan, and Cinsault,Mourvèdre and Syrah as 'secondary' options.
But what is most typical to me is the roughness of the land that the winemakers cultivate. The area is dominated by rocks and mountains carved out by the many rivers starting in the Pyrenees and flowing towards the Mediterranian Sea.
The AOC Minervois is no exception to the characteristics from the Languedoc-Roussillon region. The highest vineyards have a chalk and clay soil and are very hot, the lower vineyards have a soil with clay and pebbles and are a bit cooler due to the rivers and because they are closer to the sea. It is always windy in the region and the climate can change from one day to another, making it very difficult to make a consistent product, but… if you succeed in making a good wine, it's often a very good one!
This particular bottle is made by David Pamiès and Danielle Khalkhal on their domain in the most northern part of Minervois. Their wines are made as natural as possible, and this bottle is a combination of carignan, cinsault, crenache and syrah.
Do you feel this bottle is going to be fun? I do!
Appearance
If the density of this wine had muscles, Muhammed Ali would have been scared. What a mega-difference with the previous one, my glass is completely dark, legs are coloured like crazy and if you would give me a brush I am sure I could paint with this stuff. Never seen anything like this before. Groovy.
Nose
The aroma has some difficulties escaping the thickness I guess.
The nose is not at all fruity, and quite heavy.
I get notes of chocolate, syrup, date, and blackberry jam.
But as the wine opens up, a weird but delicious combination of white mushrooms and smoked ham appears.
Taste
As we could derive from the notes above, this isn't a beverage, it's food in your glass. The balance is soft, acidity does not gets your mouth juicy and the end result is that it really feels like you just had a delicious mushroom/chocolate/blackberry-mousse. This is totally crazy.
Finish
The finish is dry, and the notes that this wine leaves behind are definitely one of a chocolate dessert (soft, not bitter!) with nuts and date (and a blackberry on top).
My god, what a treat this is.
Do not plan to pair this wine with food. This is a wine to drink slowly on a cold sunday afternoon. Perfect for this time of the year. So much elegance, very extracted and delicate at the same time, and I am really amazed that this wine is made 'as natural as possible' in a difficult climate. Great job Khalkhal & Pamiès!
An easy one!

WINE OF THE WEEK #018
Hi tumblr's - I've tasted the third natural wine in April :
BLANC DE GARANCE, Côtes du Rhône villages - Garance 2009
This wine, as well as the previous one, is produced by the domain "Rouge garance",located on the right bank of the Rhone river in the south-east of France where the soil consists of clay and chalk. Making a white wine in the Rhône region in France, you usually deal with marsanne, roussanne, grenache blanc and viognier. I don't know if the winemakers had a specific reason, but they used 25% of these 4 varietals to build the wine. WINE DATASHEET
You can find the vineyard on my WINEMAP & let's see what's what.
Appearance
A very light, straw colour.
Nose
A subtle nose, I find the common pear & honey notes from the Rhône whites, along with a fresh minerality, some lemon & banana. It smells a bit salty as well, hard to describe…
Taste
I struggled with the mouthfeel on this one and had several sips before writing some notes down. The acidity is ok, and I've got the feeling the wine is about to be spritsy, without being it. Like you drink a soda when the bubbles are gone. It's a bit heavy structured, which is maybe just another description of the same feeling. There is some white pepper spicyness, almost covering the alcohol level of 13,5% …
Finish
The finish reminds me of Rambol, a creamy cheese with a strong walnut flavour.

I don't really know about this wine. It shows the characteristics of a Northern Rhône wine really well, but I've got the feeling they where not used properly to enhance the final product. Using 25% of each grape maybe shows that the winemakers don't really have a defined direction with this wine. Let's call it a silver medal.
WINE OF THE WEEK #017
Here we are again, with the second natural wine in April :
ROUGE GARANCE, Côtes du Rhône villages - Garance 2009
The vineyards of the domain "Rouge garance" are located on the right bank of the Rhone river in the south-east of France where the soil consists of clay and chalk.This region full of sunshine, grows mostly grapes such as Syrah-Grenache-Cinsault-Carignan and Mourvèdre. At the domain, the soils are enhanced biodynamically and this wine is aged (only with natural yeasts) in concrete barrels without adding sulphite to the grape juice, only while bottling, a small amount is added.
You can find the vineyard on my WINEMAP.
This wine consist of 70% Carignan and 30% Grenache. I recently attended a winetasting where 90% of the wines were from the south of France and I really discovered the Carignan grape. To me, it's a grape that is able to smoothen out the strong Grenache ( and Syrah) characteristics. I am really curious what a natural 70% Carignan wine brings to the table!
(psst : WINE DATA SHEET)
Appearance
A classic red, slighty purple on the edges.
Nose
I just love that Rhône nose! Primary notes of caramel, green pepper and blackberries, also lots of minerality and if I sniff way down I find strawberry and lavender. Can you beat that? Nah…
Taste
The first day I wasn't convinced at all with the mouthfeel. It felt dry and weird, like eating candy paper with raspberry flavour. However, today's the second day and now it's smooth and silky, very soft tannins, light and clean. It feels like it's really at its best right now.
Finish
Licorice, ashes?!, chocolate … all you look for in these kind of wines. I find it hard to describe those typical Grenache notes, but what you are looking for is in the glass.
I was going silver on day 1, but I am gold on day 2. It really opened up and showed all it's quality. Carignan is proving itself very quickly as one of my favourite varietals. And again, the bottle is empty, no problems at all with drinking nor small side-effects. Remarkable, those natural wines…