Theme of the month - NEBBIOLO - April 2012 
Hi winelovers,
I am a bit sad to say that my box of pinot noir wines is empty. It has been great to discover a fabulous grape and especially the ones from Burgundy. I somehow knew I loved pinot noir, but now I am sure I do!
My stomach, my little toe, my subconscience and my tastebuds are sending me the exact same signals for this new theme. I am overly excited to announce you that I have another 5 wines waiting to be tasted, all wines made from the NEBBIOLO grape.
Nebbiolo originates from Piedmont, the famous wineregion in North-West Italy.
Wines like Barolo and Barbaresco are all nebbiolo based wines.
As the harvest season approaches in Piedmont, a typical phenomenon takes place. Warm days and colder nights create a fog comming from the Mediterranian Sea that gets stuck against the alps, where most of the Piedmont vineyards are located. Fog is called "Nebbia" in Italy.
There is a second foggy explenation why the grapes are called Nebbiolo.
As the blue grapes ripen, a white layer appears around them. I do not know the chemical or biological background, but it sure looks like foggy grapes.
Here are a few fun-facts about Nebbiolo:
grape with high tannins and high acidity - needs some sunshine and wind protection to reach full ripeness, but when they do, you can make a wine that ages really well
it is one of the first grapes to bud in spring, and one of the latest grapes to harvest - has a very long ripening process.
flavours are dark fruit (cherry, prune) and lots of earthy and mushroom notes
age adds flavours of cigar box, dry leafs and tobacco
And last but not least, a list of what I will have over the next month.
1. UNIQATO from Damianitza winery - Rubin (cross Nebbiolo-syrah) 2007
2. OSVALDO BARBERIS - Muntajà - DOC Nebbiolo d'Alba 2009
3. NINO NEGRI - Le Tense - DOCG Valtellina Superiore Sassella 2007
4. NINO NEGRI - Sassorosso - DOCG Valtellina Superiore Grumello 2007
5. FABRIZZIO BATTAGLINO - DOC Nebbiolo d'Alba 2009

Happy Nebbiolo,
JDR
WINE OF THE WEEK #067
Hi everyone,
there is no better way to end this Pinot Noir theme with another Burgundy.
Classics are there to be respected, and thus I kept the next bottle until the end:
Michel Sarrazin - Cuvée Champs Lalot - AOC Givry - 2009
It took me a while to figure out where the AOC of Givry was located. A friend of mine pointed me towards a website called Burgundy Report where you can find loads of info about Burgundy and the layers, sublayers and subsublayers of AOC's, especially the pricy and expensive ones.
However, as I work with a small budget for my blog, I couldn't find info about Givry, because it is not from the most sought after regions in Burgundy, but from the "Côte Chalonnaise". A region that is not really known, but can surprise you with a better QPR. Something I am always looking for!
Here are some pictures that will help you :
first of all a general map of Burgundy
And this is a map from Côte Chalonnaise.
The winery of Michel Sarrazin and his 2 sons is located in between the villages of Givry and Jambles.
And finally, this is where the magic happens.
The vineyard & the cave.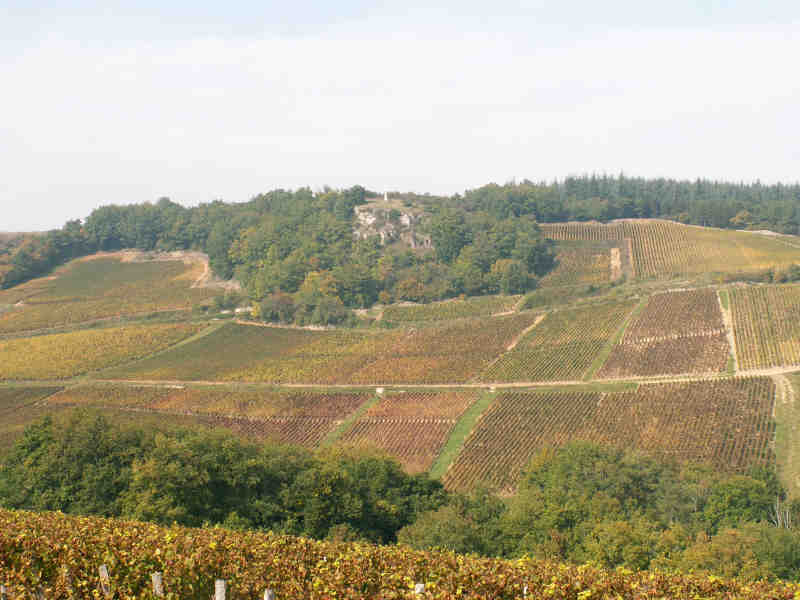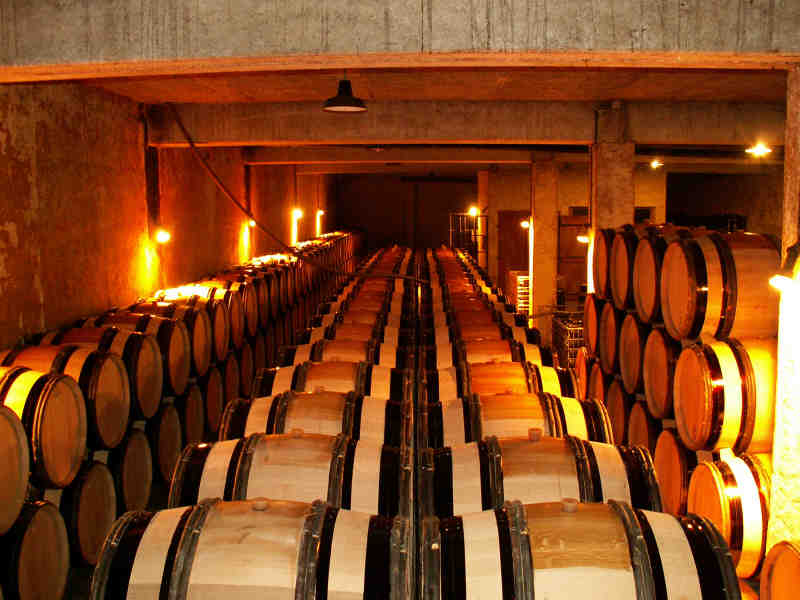 By looking at the incredible website of Michel Sarrazin, I discoverd they just make wine in the most traditional way possible. They don't use fancy words, they are not really trying to please the e-loving public, but I have a feeling they are know what they are doing once they start making wine.
Classics & tradition : let's go!
Appearance
The colour is one of the darkest I have seen so far in this Pinot Noir theme. It is quite difficult to see your fingers through the wine. Also, no colour on the legs after swirling around. I call this wine 'neutral' , not much to say here.
Let's sniff!
Nose
Sticking my nose in my big burgundy glass right now is quite something.
For me there are 2 layers.

The first thing that I notice is an explosion of fruit. It feels like a firecracker with raspberries and strawberries is opened in your nose. I don't know why I take this angle to describe the nose, but this is a fantastic vibrant - dusty - explosive - intense fruity nose.
Should this 'firecracker' be called minerality, I don't know. All I know is that I really!!! like this.
And now the second layer. It took me 2 days to find the right description, but now I know exactly what it is. In Belgium we call it "peperkoek" , and the rest of the world knows it as gingerbread.
It is a rye based (breakfast) cake with clove, cinnamon, ginger and nutmeg and a good amount of black pepper. It is often baked in the oven with large pieces of sugar on top, and this sweetness blends very nicely with the herbal cake. It might a very particular note, but I know this is exactly what I am tasting here.
My grandma used to love peperkoek, and I always got a piece when I was around!
Taste
I could write all day long about this wine I guess, but I am going to keep it short. You can turn this wine around in every direction, and balance is all you will get. This is just fantastic.
Tannins are very well integrated.
Fruit is juicy and very natural.
Acidity makes the wine very drinkable and enjoyable.
The firecracker really is a great backbone and I dare to call it minerality right now.
All I can think about is : give me some more!!


Finish
After a very vibrant and fresh mouthfeel, a soft fruity bird lands on your tongue. It is incredible how this wine keeps its balance on the finish, just no flaw at all.
And ofcourse,  the 'peperkoek' is back again. I have made the same comment before, and again, the finish reminds me of tea. Nice spices, a dry mouth and a soft coating that continues to give flavour for even minutes.
If you would ask me if there is a wine I want to drink forever, I would probably add this wine to my wishlist. It is that drinkable and delicious!
WINE OF THE WEEK #066

Finally Tumblrz, we are back with a new post.
The 4th pinot noir of the bunch, and I still have one to go!
Everything is loud and clear on the label : the grapes, the DOC. Everyone who is not familiar with Südtirol or Alto Adige : this is a region in Northern Italy, south of the Alps, and located more towards Venice than towards Turin.

The region is mostly known for their fantastic white wines. Freshness and minerality are the keywords, and grapes like Riesling, Gewürztraminer, Pinot Blanc and Sauvignon Blanc are grown here. I was absolutely stunned by the quality of these wines at "megavino", a wine fair in Brussels.
A couple months later, I attended a special "alto adige" tasting, where I also learned that the region produces great red wines as well. Pinot Noir or Blauburgunder for the lighter style of wines, and the local grape Lagrein is used when you want muscle in your glass. And it's not just muscle for muscle. The elegance and freshness was never lost along the road. It was a fantastic tasting and a region to really discover if you are getting tired of Germany, Austria or Alsace.
This wine is made by winemaker Hans Terzer from the St-Michael Eppan winery, and his moto is : "quality knows no compromise". And I have nothing to add to that!
Let's see if he lives up to his goals.
Appearance
Straight away, I notice shades of orange and brown in the wine, confirming that this wine starts having some age.
The base however is that typical Burgundy red that I am starting to get familiar with. A Burgundy red to me is an earthy red, transparent and delicate.
Nose
Ok, this is going to be a tough one for me.
I have almost never tasted older wines, and right away, a whole new spectrum of flavour opens up.
The vibrancy of the fruit is still there, but the flavours have developed towards more complex structures. The first thing I pick up is a dried leaf, more precise a tobacco leaf with some mud on it. Next is a little animal, making the nose a bit funky. And out of the blue I smell a brazil nut.
All these aspects are wrapped up in a sweeter aroma. Something I also found in the Pinot Noir reserve from Leth. It reminds me of a plum syrup, very natural and herbal, and it gives a great roundness to the nose.
Very interesting.
Taste
I take the wine in my mouth and nothing really happens, and this bothers me a bit. After chewing, and slurping and whatever you can do with wine in your mouth, I start to understand bits and pieces of the wine.
The mouthfeel is so different from a 'young' wine. The tannins are very soft, yet dry and quite powerful. The wine feels thinner, less fruity tones, more earthy stuff. More delicate as well, but I'm not so sure if I find this delicious. I sometimes get a sudden spicy feeling which I'm not liking so much.
Although I find this very interesting and I am trying to pinpoint the complex flavours I get, I miss the roundness and the balance that I got on the nose.
Finish
The finish is somewhere in between the nose and the taste. Especially those dried leaves are coming back again and again.
I remember when I was a kid at school, and during autumn we went to the forest to pick up dry leaves. This wine completely brings me back to those days. And now that I think about it, it almost tastes like tea!
I am a bit lost right now. I want to taste more and more and more, because every time I discover some small nuances that I didn't taste before. But on the other hand, it bothers me that I have to do the searching myself. The wine should tell me a story as well, and I should just be able to lay back and listen.
It could also be my palate that needs more training, or needs to get used to these kind of wines.
Confused, but intrigued, I will give this wine a silver medal!
WINE OF THE WEEK #063
Allright,
as you have read in my previous post, I've got 5 Pinot Noirs to taste instead of 4, so I am giving myself the pleasure this weekend to taste the first wine straight away.
One of those five wines has been staring at me for weeks, almost begging me to uncork it. So I am not going to push my luck, and obey the wine gods.
I start with the LETH - Pinot noir reserve 2009 from the Wagram region in Austria
I have heard a lot of great things about this winery, and ofter having a look at their website, I am convinced what they say is true.
The winery is known, like the region itself, for their white wines, especially Grüner Veltliner ( a grape you really should try sometimes! )

The reason why they planted Pinot Noir as well is due to the fantastic terroir that you find in Wagram.
The soil is built up by layers and layers of chalk, loam, sand and loess, up to 20m deep. All these layers are more or less porous so the roots of the vine can search very deep for water and no irrigation is needed. Because the roots travel through this ventilated mineral "cake", a lot of minerality and freshness is absorbed.
Secondly, the region is located in between the hotter climate of eastern Europe and the colder climate of northern Europe. Cold nights are often compensated by hot days which means the wine can develop without going to fast and without needing help from the winemaker.
With all these interesting qualities, the only thing the winemaker has to do is "educate" the wine.
First of all, the grapes only have 2 weeks of skin contact, to keep the wines light, fresh and flexible. After that, the wine goes to sleep for 18months in classic 'barriques' or oak barrels that come from Burgundy in France : home of Pinot Noir.
What I guess to taste is some kind of an athlete.
Training in a hot day, resting in a cooling room, eating healthy and fresh with a lot of minerals from the soil, and having some nice and flexible muscles from the oak.
But am I right?
Appearance
I'm learning here, because the colour is transparent and light, and that makes perfect sense with the story about how the wine was educated.
I would describe the looks as a crispy, juicy brick red. It has small hints of terracotta and rosé. Beautiful.


Nose
The first note is that of a fresh forest full of strawberries, a bit of apple and cherry juice and raspberry.
You've noticed it's all fruity and fresh.
However, when I sniff a little longer, layers of caramel or balsamic oil appear. Together with a nice spicy note that is straight to the point like pepper.
Taste
Jep, this is great.
It's what I call a "laserbeam" wine. From the moment it's in your mouth, it brightens up, explodes and plays one clear note.
Every part is in balance:
The wine is so fresh thanks to a nice acidity, but is balanced out by a lush and creamy feeling thanks to the oak. I do not like oaky wines, but this is like having a fresh strawberry with a small dot of strawberry syrup on top, just enough to give that cosy feeling.
Tannins or minerality do not play the main part in this experience, but are just at the level that they should be to support the fun.
Finish
After this first punch, or laserbeam, there is a long finish.
The main notes are again caramel, some pepper as well and something herbal that I found very difficult to describe but it adds to the complexity of it all.
And I should add something to all the above. Five minutes after I wrote down all my notes, I still had something on the finish, something like a furry animal or barnyard. My descriptions might come across a bit girly, but don't be mistaken. ;)
There is no doubt in my mind that I am going to give this wine a gold medal. It's just so fun and complex at the same time, and so different from let's say the last wine which was a Pinotage from South-Africa. Both were great, but the elegance of this wine in contrast with the pure muscle from the last one just shows what wine can be. This Pinot Noir makes perfect sence and I cannot wait to taste the sparkling wine from the Leth winery!
Theme of the month - PINOT NOIR - March 2012
Hi everyone,
I have been travelling around the world with my last couple of themes : Portugal, Belgium, South-Africa, Hungary, France.
Those themes helped me a lot to discover cool regions and learn more about the wineworld in general, but I always got the feeling that this kind of research stays a bit superficial and simplistic. I feel it's time to focus again.

So I got the idea to make a theme around a grape. I actually started this blog with four different Syrah's from over the world and that gives you really a good sense about the hand the winemaker, soil and climate have in the final product.
And what grape can be more interesting then Pinot Noir.
A grape that is every winenerd's wet dream. My favourite sparkling wines are made from Pinot Noir, be it a champagne or another sparkler. I've already tasted some very good or very crazy Pinots from New Zealand, Belgium, California and even Argentina. I am a huge fan of Spätburgunder (= PN), which you can find in Germany and Austria. And I have not even said a word about Burgundy, where every group of 4 stones is called an "AOC" (for a reason) and where you have winemakers selling their low-end bottles at €500 / 75cl.
So you could ask yourself, why is Pinot Noir the key to wineheaven?
I personally believe that Pinot Noir is the "enfant terrible" amongst the grapes. It has huge talent, but does nothing by itself.
It's a lazy grape and you should nurture and caress it every second.
It has pride, is some kind of an attention whore and is so difficult to grow.
But, if you live in the right climate, plant it on the right spot, have a good pair of hands and now what your vineyard and your vines need, than it could also be the most fun grape to work with, because it will open the wineheaven doors for you.
So, I've got a selection here, which I hope will do just that for me.
1. LETH, Pinot Noir Methode Traditionelle Brut 2007, Wagram - Austria
2. LETH, Pinot Noir Reserve 2009, Wagram - Austria
3. St-MICHAEL EPPAN, Blauburgunder-Pinot Nero Reserva 2004, Alto Adige - Italy
4. MICHEL SARAZIN, Champs Lalot vieilles vignes 2009, AOC Givry - Burgundy
5. PHILIPPE GAVIGNET, Clos des dames huguettes 2009, AOC Hautes-côtes de nuits - Burgundy
My friend Wim Sas (@wijnkennis on twitter), from the wineshop Wijnkennis.be  deserves a big thank you for helping me out with this theme. I know I like his taste a lot so I am superexcited to discover why he believes these wines represent Pinot Noir.
Hope to see you soon for the first post, and don't hesitate to share or leave a comment.
Cheers, JDR
WINE OF THE WEEK #062
Hi everyone,
I'm back with an exciting post!
We are going to taste a Pinotage today, from the Altydgedacht winery from Durbanville in South Africa.
First of all, I have to tell you the story behind the grape : PINOTAGE.
Pinotage is a cross between Pinot Noir & Cinsaut, made in 1925 by Abraham Izak Perold, a viticulture professor at the Stellenbosch University at the time.
Perold went for the easy way out. He wanted to grow Pinot Noir but as we all know, Pinot is a pain in the ass to grow, and asks a lot of effort and curing. On the other hand, you have Cinsaut which is very robust and has a good resistance against different weather conditions, and the hot days and cold night in South-Africa. So he wanted to combine the elegance of the Pinot Noir with the muscle of Cinsaut.
Out of 4 different crossings, the grapevine with the best performance was chosen and Pinotage was born.

This is our lovely labgeek, Mr. Perold.

I've only had one Pinotage since I started tasting wine, and what I remember is that is was not really accessible and very dull (overoaked). I also believed that the grape was grown in hot climates. But!..

I've read the introduction of the Altydgedacht winery on their website, and it appears that their vineyards are in a colder climate near Durbanville, influenced by the Atlantic Ocean.
If you look a bit further, you'll see that they also grow Gamay, Gewürztraminer and Sauvignon Blanc. Or, grapes with a cold climate origin.
So maybe I'm up for a surprise here.
Will the frankenstein-grape show it's potential?

Appearance
The wine looks like a typical young red wine. Ruby, dark, slightly transparent and I am pleased with the coloured legs after swirling the wine around in my big burgundy glass. Looks good.


Nose
The nose is very fresh and spicy.
Feels like fresh blackberry and dark cherry juice, with a bit of burnt caramel and mocha.
Also some bacon and charcoal, and typical red meat herbs : tyme, rosemary etc…
The nose is fantastic, deep and complex.
Taste
Wow, the acidity on the wine is huge.
Lots of juices are flowing around in my mouth, some subtle dusty tannins and overall very well balanced. Only the alcohol is a bit high, but without getting too dominant.
Burnt cherry is the main note, and some black oil. Maybe its a long shot, but it reminds me of oyster sauce. Very interesting and I am sure it's a gift for a chef to cook some good meat with the complexity of this wine.
Finish
Aha, the charcoal is back. Nice, dusty and a perfect addition to the dark chocolate component that is getting more and more present when I type these words. 
I like this wine a lot. It has a very powerful nose, great acidity and structure and a good transition towards the end. The fruit is always there, burnt and dark, in combination with some more funky stuff : charcoal, oyster sauce, chocolate, bbq, herbs, … 
Another gold medal for the S-A reds!
And now the funny part, I will be honest with you guys.
The review you just read was my second attempt.
After the first attempt, I decided to aerate the wine in my decanter and shake it as hard as I could for a couple of seconds, with the gold medal as a result. Lucky me, because I was almost ready to pour it all into the sink. :)

Why?! you will ask… well … euhm
The first review was written 1 hour after uncorking the wine and just pouring it into the glass like I used to do. After that first attempt, I was so pissed and said to myself "why on earth would anybody use a grape like that to make a wine!?" You can find what I wrote here…  :)
Appearance
That stayed the same ofcourse…

Nose
This is a strange little animal.
It's really hard to start describing how this smells.
First of all, fresh black rubber from a car tyre with some christmas herbs : tyme, rosemary and a hint of cinnamon.
At the same time, it could also be a cigar, dark chocolate and petrol in a blender.
Swirl it all around and you get more freshness, a smokey bacon, and some dark blackberries, a bit jammy even.
The nose is very "mechanical" , it really feels like it's made in a car workshop and not on a vineyard. Mother earth had nothing to say here.
It's also possible they ran out of barrels and used this instead.

Taste
Really don't know what to expect now.
But there's only one way to find out…

I'm quite pleased with the mouthfeel.
There is a good amount of acidity, the wine is nice and dry and very tight.
No funny and quick aroma's but a structure that is very well kept together.
One big problem is the alcohol, 14.5°, giving too much heat.
Again, this wine is dominated by bizarre flavours, very herbal and black.
Darth vader with a santa outfit and a blackberry pie is what's on my mind right now. A bit unreal right?


Finish
The finish might be the best part of the wine.
All the funk is gone and you are left behind with a strong mocha, chocolate and liquorice flavour profile, plus a nice smokey wood component.
Now that I think about it, it feels like Pinotage is the whiskey of wine.
It's not a food friendly wine so drink it afterwards, it's endlessly complex and very difficult. I give it 10/10 as an experiment, 8/10 for quality (I guess), but 2/10 for being unapproachable and rough.
I cannot say this is a bad wine, I like the structure and the complexity,  but I would never open a bottle like this when I've got friends around.